-News
UPCOMING EXHIBITIONS AND PERFORMANCES:
—
U-AV 002 @ Sonic Acts Festival 2015
—
Pendulum Light @ Parklicht 2015
—
U-AV 001 @ Anonymous Amsterdam
—
Parsec @ Gogbot Festival 2014
—
Parsec @ Drift Festival 2014
—
Covex @ 25 FPS Festival
—
Parsec @ Atonal Festival Berlin 2014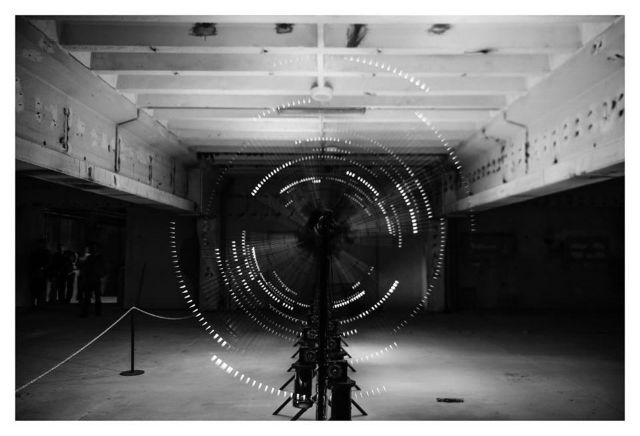 —
Cycles @ Tetem Kunstruimte in collaboration with GOGBOT Festival
On July 17 a solo exhibition will open at Tetem Kunstruimte. The work Cycles will be shown till the end of GOGBOT Festival, September 14.
—
From May 21 till 24 Phase=Order will be shown at the Deaf Biennale in Het Nieuwe Instituut in Rotterdam.
—
As part of the performance program "COVEX" will be presented on Friday Mat 16 in Riga at the Fields festival, organized by Rixc.
—
PARSEC @ Donaufestival Krems, In cooperation with Sonic Acts Festival.
As part of the art program we were invited by Sonic Acts to show our work PARSEC at Donau Festival, Krems. It will be exhibited from April 24 till May 2.
—
Line_Reflect + Revolve @ TEC ART
During the Art Rotterdam Week a commissioned work by TEC ART called "Line_Reflect" is presented in the floating pavilion in Rotterdam. Besides this "Revolve" is shown in the TEC ART Exhibition at the Fenixloods from 5 till 9 February.
—
Op 13, 14 en 15 december 2013 organiseert de stichting Winterlicht de lichtmanifestatie Winterlicht III in het Julianapark in Schiedam. Tijdens dit unieke festival presenteren 20 opkomende en gevestigde kunstenaars hun lichtkunstobjecten en videoprojecties.
—
Schmertzmittel @ TENT Rotterdam
« A Banquet for Wandering Ghosts »
22.00 - 04.00 uur, deuren open: 21.30 uur
An all night programme of performances, films, videos, dance, readings, art, night walks, mini-lectures, and food design, that explores the interfaces between Halloween and contemporary art.
—
PARSEC @ TodaysArt
We are very happy to announce the première of our new installation 'PARSEC'
More information on the installation will be soon online.
27 + 28 September, The Hague   TodaysArt has been presenting programs focused on adventurous contemporary visual and performing arts, architecture and digital culture annually since 2005. The ninth edition unfolds in the former ministry of interior and kingdom relations (Binnenlandse Zaken) building – part of a municipal complex of over 124 000 square metres – on September 27th and 28th.
—
Schmertzmittel @ De Wereld van het Witte de Withkwartier.
DE WERELD VAN HET WITTE DE WITHKWARTIER
13, 14 & 15 septemberWitte de WithkwartierRotterdam
De Wereld van het Witte de Withkwartier is een stadsfestival voor cutting-edge kunst en cultuur, gedragen door de straat, geprogrammeerd door de kunstinstellingen aan de culturele as. Het festival opent het culturele seizoen van Rotterdam; drie dagen lang staat de straat bol van kunst, cultuur en gezelligheid. Gedreven door artistieke vernieuwing en nieuwsgierigheid brengt De Wereld van het Witte deWithkwartier creatieve acts en tentoonstellingen.
Schmerzmittel is een lichtinstallatie speciaal ontwikkeld voor De Wereld van het Witte de Withkwartier. Een wit monsterlijk looplicht trekt door de straat. Slagschaduwen en stroboscopische pulsen schieten tegen de gevels en over het publiek.
—
The Festival Ars Electronica 2013 is all about memory and memories, how they are created, how they influence our lifes, why we keep them and what we do with them. It discusses the fundamental elements of human memory, reflects on the current state of data and takes a look into the future what memory is going to be like. Check out the program onwww.aec.at/totalrecall.
—
Revolve @ The WRO Biennale & 50 Years of Electronic Art
The WRO International Media Art Biennale is the major forum for new media art in Poland, and one of the leading international contemporary art events in Europe. Since its inception in 1989, WRO has been presenting art forms created using new media for artistic expression and communication. The array of exhibitions and presentations that make up every WRO Biennale feature a wide variety of genres and forms, including video art, installations, multimedia concerts and performances, interactive works, net and social-media projects.
Opening-events May 8–11, 2013
—
COVEX @ FAQ Festival
The fourth edition of the FAQ Festival for electronic music will take place on the 18th and 19th of april 2013 in 's-Hertogenbosch, the Netherlands. Two days filled with spectacular concerts in Muziekcentrum De Toonzaal, in cooperation with the W2 Poppodium. FAQ brings cross-overs where the boundries between pop music and avant-garde music are challenged, always with electronic music in center.
—
MONODRONE @ Nutshuis
MONODRONE is a new piece developed in corporation with Nicky Assmann and Daan Johan. The audio/visual work investigates the relation between analogue moiré patterns and custom build mono-string instruments.
About iii
The Instrument Inventors Initiative is a platform for the development of self-made media based in The Hague that aims to enable artists to maintain idiosyncratic research trajectories which zig-zag between disciplines and distribution channels.
Date :Friday March 8th 2013, during Hoogtij #32
Time:19:00-23:00
Location:Het Nutshuis, Riviervismarkt 5, Den Haag
Entry: Free
—
In the audiovisual performance COVEX (2012), Yamila Ríos and Joris Strijbos explore the relations between electroacoustic sound and diffracted light patterns. An extended cello creates a mass of sound, which morphs from a complex noisy environment of fast, fragmented textures to a serene, harmonic drone. Shooting laser beams through transparent objects results in an effect known as a 'speckle pattern' and produces intricate visual constellations and abstract landscapes of detailed colour patterns and dynamically evolving shapes.
(Co-produced by Kontraste and Sonic Acts, supported by Mondriaan Fund)
—
HOMEOSTASE @ Sonica Festival
Sonica – Festival of Transitory Art, which is being organized for the fourth consecutive year by MoTA – Museum of Transitory Art, makes room for an experimental festival of audio, visual and intermedia artistic practices. Sonica changes the classical gallery space into an interactive field of events, performances, installations, workshops and lectures, with a different theme each year. This year's theme is »third culture« and it raises an investigative question about a new culture, the lifestyle of which reflects a junction of technology, science and popular culture.
—
HOMEOSTASE @ GLOW
Forum of light & architecture
10 t/m 17 november 2012
—
—
Kontraste 2012
Electric Shadows
Kontraste 2012 – Electric Shadows presents cuttingedge live performances, installations, films, lectures and sound walks. The festival is conceived as a 'leap into the void', a voyage through the electromagnetic spectrum, with audiovisual experiments that manipulate analogue and digital signals to amplify our senses, investigate the dark, and explore cosmological unknowns.
"COVEX" is a collaboration between composer and sound artist Yamila Rios* and visual artist Joris Strijbos**. In this audio visual performance the duo researches the relations between electro-acoustic sound and diffracted light-patterns in a diagonal mixage between the two media.
—
HOMEOSTASE @ TodaysArt
Festival: 21 – 22 September
Exhibition: 22 – 30 September
Symposium: 20 – 22 September
The 8th edition of the TodaysArt Festival will commence on 21 and 22 September. Over 100 international acts and artists will converge in the city center of The Hague to treat the visitors to large-scale projects, world premieres and compelling acts and exhibitions that will flow together into an adventurous and unforgettable experience. From electronic music and club nights to interactive installations, from audiovisual modern dance to neo-classical concerts, from contemporary media art from Turkey to a 3-day symposium on art and society, TodaysArt is all about a voyage of discovery through the latest work and thoughts of groundbreaking contemporary thinkers.
—
HOMEOSTASE @ INTO THE GREAT WIDE OPEN
During the night-programme Homeosatse will be shown in the woods of Vlieland.
Into The Great Wide Open is een samenzijn op Vlieland. Muziek staat centraal, maar het is vooral de context die ons festival eigen maakt. Middenin de natuur op misschien wel het mooiste Waddeneiland van Nederland. Verrassende randprogrammering, beeldende kunst, film en voldoende rust en ruimte om er optimaal van te kunnen genieten. Zowel publiek als artiest is bezoeker van het eiland waar de zee de grens aangeeft en niet de dranghekken.
—
We are very happy to announce the exhibition of REVOLVE @ WOOD STREET GALLERIES in Pittsburgh.
Together with Nicky Assmann, Diane Landry, Yoko Seyama our work is shown in the "Light, Matter, Memory" exhibition which is running from July 13 - September 9, 2012
Opening Reception and Gallery Crawl July 13, 5:30pm-9:00pm
WOODSTREET GALLERIES describes the show as four spectacular installations using light to explore materiality and memory.
—
Phase=Order + Revolve @ EMAF
25 Years of Media Art
EMAF is one of the most influential forums of international Media Art. As a meeting point for artists, curators, distributors, galleries and an audience of experts the festival has a great impact on the topics and aesthetics of Media Art. Each year the festival offers its visitors a current overview of experimental films, installations, performances, digital formats and hybrid forms, ranging from personal and political subjects or formal experiments to provocative statements from the pulsating area of "Media Art – Society". The Festival sees itself as a place of experimentation and a laboratory where extraordinary works, experiments and ventures are created and presented.
—
Phase=Order @ voormalig Stedelijk Museum s'Hertogenbosch.
IMAGINE The Gallery
Van 20 maart t/m 12 april 2012 presenteerd de Digitale Werkplaats innovatieve kunst in The Gallery. The Gallery is onderdeel van het evenement Imagine 2012 dat door Ricoh wordt georganiseerd in het voor-malig Stedelijk Museum s'Hertogenbosch.
—
Revolve + Phase=Order @ STRP
—
Revolve @Rewire Festival
—
For the opening a new gallery space we present a site-specific installation based on different soundsystems we've build (including "Line") accompanied with complex visual output of simple algorithms and feedback systems.
—
We will play parts of our new Live-Cinema research under the working title "Inclement" during the Sonica Festival in Lublijana.
—
Revolve @ Gogbot 8 - 11 Sept, 2011
GOGBOT 2011, Wanna Shock your Senses?
Vier dagen lang kan je onderdeel zijn van dit multi media art music en technologie spektakel. Interactieve installaties, insecten-robot-bouw-workshops, Grindcore Karaoke, bio-installaties, film, cyborgs, Google-Birth, Data Madness en natuurlijk een uitgebreid muziekprogramma.
—
Windveld @ Oerol 17 -26 June, 2011.
Windveld (2011)
On earth the wind consists of the bulk movement of air, in it a collision takes place between the molecules the air is constructed of. The chain-reaction between these molecules results in the dynamic process that shapes the patterns of the wind. "Windveld" is a large scale kinetic installation inspired by those patterns. The installation is comprised of 150 "wind tumblers", each able to bend and rotate according to the force and direction of the wind. The field reveals itself as a kinetic self-organizing system that is in a constant dialogue with the forces of nature.
—
Revolve @ Oddstream 2 - 5 June, 2011.
Our new installation "Revolve" will be shown on the Oddstream Festival. Revolve is a kinetic machine communicating with the world through an abstract language of stroboscopic flashes and lines of light. Hundreds of LEDs perform a generative composition on a fast spinning rectangle.
—
Difrakti @ Van Gogh Museum 3-12-2010
Sorry only dutch this time..
Op 3 december zal de groep ´Macular´ de compositie Difrakti uitvoeren, geïnspireerd door energetische processen in de natuur en gebaseerd op de natuurkundige principes van diffractie en interferentie. Diffractie treedt op als golven in contact komen met objecten in de ruimte, maar Macular is in hun performance niet per se gebonden aan de natuurkundige wetten zoals wij die kennen. Door het simuleren van een virtuele wereld in de computer, kunnen ze de natuurwetten in die wereld naar hun hand zetten. Dit resulteert in een wereld van complexe en gedetailleerde patronen die een organische kwaliteit hebben, hoewel ze
geheel digitaal zijn.
Voor deze avond bestaat ´Macular´ uit Joris Strijbos en Daan Johan.
Joris Strijbos maakt installaties en videowerk dat is gebaseerd op simulaties van de onderliggende principes achter optische fenomenen in de natuur. Daan Johan maakt vooral geluidsinstallaties gebaseerd op elementaire aspecten van de voortplanting van geluid in de fysieke ruimte.
————
Phase=Order@Uneven.
UNEVEN in Theater aan het Spui. Datum: 3 (try-out), 4 (premiere), 5 en 6 november. Aanvang vanaf 20:15 in de Foyer en 20:30 in de zaal.
————
Macular@IMG Festival.
29.10.2010
Noorderlicht invites Lowriders @ De Unie Rotterdam

Noorderlicht
Macular (laser installatie)
David Louf (videomapping)
De Oplichters (analoge video synthese)
De Unie
Mauritsweg 34-35, Rotterdam
————
Macular @ Galerie Kunsinzicht 30-9-2010
L//C Series
Door Macular.
Macular is een collectief dat bestaat uit een aantal jonge kunstenaars die zich bezig houden met abstracte audiovisuele kunst. De L//C serie, die speciaal voor deze expositie ontwikkeld is, bestaat uit een aantal kinetische lichtsculpturen die zijn geïnspireerd op het werk van licht-pionier Thomas Wilfred.
————-
Phase=Order@TodaysArt 2010.
In 2010, TodaysArt embraces functionality, transparency and community. Following the successes, dramas and repercussions (expected and otherwise) of 2009's festival, CONFLICT, TodaysArt has spent the year reflecting and agitating for new and better questions. What is a festival? What can a festival be? What interventions are effective? What role do we play in the local, national, international community? How best do we foster our local creative community? How do we engage effectively?
For more info: http://todaysart.nl
————-
Macular @ E-Pulse 2-10-2010
As part of the High Pulse programme we are presenting new Live-Cinema material based on the audio visualisation of energy structures and force fields. This all happens on the 2nd of October on the E-pulse festival in Breda.
————-
Phase=Order video documentation @ Gogbot festival 2010
As part of the youngblood programme I'm presenting a video documentation at the Festival.
for more info check: http://2010.gogbot.nl/nl/programma/youngblood/details.html
————-
Phase=Order@Neural
Phase = Order, escaping the screen
In the field of expanded cinema the two-dimensio- nality of the projection screen has long been a limitation that artists have attempted to overcome through many different strategies. Rotterdam-based Joris Strijbos, member of the ensemble
Macular
, has found a way to take audio-visual media out of its habitual constraints. Recovering the legacy of optical and kinetic art and taking the lead from László Moholy-Nagy's "Light-Space-Modulator",
Phase = Order
is an installation in which a single light source is projected on an array of mobile panels. It employs ninety-six transparent screens mounted on servomotors and arranged in a twelve by eight matrix on a neutral white surface. Carefully controlling the rotation of each panel through an algorithmic process, the system creates quickly evolving patterns of shade and light, reflection and refraction. Structured through organic relationships and governed by feedback principles, the interplay between the individual elements generates a complex visual field in which the eye is invited by endless trajectories to experience the limits of its own cognitive capabilities.
Matteo Marangoni
————-
————-
Macular plays Difrakti@Textuur
Besides Medieval chanting and Jazz-core we will present our Live-Cinema set Difrakti at Poortgebouw. On the 11th of June around 21:00 this is all happening in the Stieltjesstraat 38, Rotterdam.
————-
Unidetified @ Zinder Festival 16-4-10
Macular is showing an updated version of Unidentified at the ZINDER 2010 festival in the Stella Theater in The Hague. The exhibition is open daily from the 16th of April till the 6th of May.




————-
Difrakti + HRT 001 @ Wired Festival 19-12-09.
We are very pleased to announce the premiere of our new performance Difrakti at the Wired Festival.
The wired festival brings upfront music, audiovisual art, new media and live cinema together in the shape of a mini-festival. The Festival will run from 21:30 till 4:00 at a unique industrial location: the former KPN building in De Binckhorst (The Hague) Bink36.
————-
Sharing some stills of the Change_Sound_Reaction1.2 installation Macular presented at E-Pulse Festival 2009.  www.macular.nl
————-
Macular @ E-Pulse, Electron Breda 15 t/m 25 October 2009.
For the E-Pulse Festival we were invited to participate with two installations and a live performance. The HRT001 and the Change_Sound_Reaction1.2 will be part of the expo. On the openingsnight (15 October) we will perform Diagonaal.
E-PULSE FESTIVAL, 15 T/M 25 OKTOBER
4 DAGEN FESTIVAL, 10 DAGEN EXPO / E-MOVIES
————-
Diagonaal @ Discovery09, NEMO Amsterdam 25-09-09
Macular will perform Diagonaal at Discovery09 which is held on the 25th of September at the NEMO in Amsterdam. Discovery09 is an event that combines science with art and music. During the evening live science experiments will be conducted along with VJ performances, lectures and music by the likes of C-Mon & Kypski, Baskerville and Missing Links.
————-
On 31st July & 1st of August 2009 we will perform Empty Vessel. A piece by Movementalist where I will do the visuals.
For more info check: http://www.movementalist.nl
————-
On the openingsnight of 5 days off at the Melkweg Max, Amsterdam Nicky Assmann will perform with the Circuit Dress as part of the Wearable Technology – Powered Art and Fashion Design programm. During this performance I will process the sounds comming from the dress. The opening is on July the 15th.
check full programm at:
————-
New track released on The CyberfArts label. The album is called Industrial Glue Electronics.
Click on the link to listen to my track on the album.
————-
Macular @ STRP, Klokgebouw Eindhoven 03-04-09
On the 3rd of April we will perform Diagonaal at the STRP Festival.
The STRP Festival is one of the largest art & technology festivals in Europe and the mix of music, art & technology makes it unique. The multidisciplinary programme appeals to a wide audience. The focus during the opening weekend in 2009 is on impact and experience, while the second part will concentrate on delving deeper, amazement and quieting down. In addition to the festival, the STRP Foundation also organised the 5MM (five minute museum) in cooperation with Eindhoven's MU art space.
————-
Noorderlicht @ Busstation Noord, Rotterdam 28-03-09
Macular will be participating in the Noorderlicht / Viaduct van de Verbeeldingskracht event at the Busstation Noord in Rotterdam. This is part of the 2009 Youth Capital of Europe programme by the city of Rotterdam.
————-
Shortcuts to nowhewre, Destination nowhere.
Cyberris Soundsystem @ Tacheles-Berlin. 31-1-'09
————-
On the 20th of december we will perform Diagonaal at Seeder.
This is a new media event orginised by de Fabriek.